Lucia Orozco-Mireles, blocks the sun out of her eyes with an American flag while she listens to speakers at the Immaculate Conception Catholic Church in Durham, on October 30, 2016. More than 1,000 members of the North Carolina Congress of Latino Organizations met with North Carolina candidates for governor and U.S. senate during a public nonpartisan meeting.
Sophie Wade, 7, right, looks up into her fort as sister Ava, 9, heads toward the kitchen of the fort inside their Henderson home on Tuesday, January 10, 2017.
 
Ronnie Long and wife Ashleigh Long hold hands as they talk during Ronnie's visitation at the Albemarle Correctional Institute on Thursday, Feb. 1, 2018.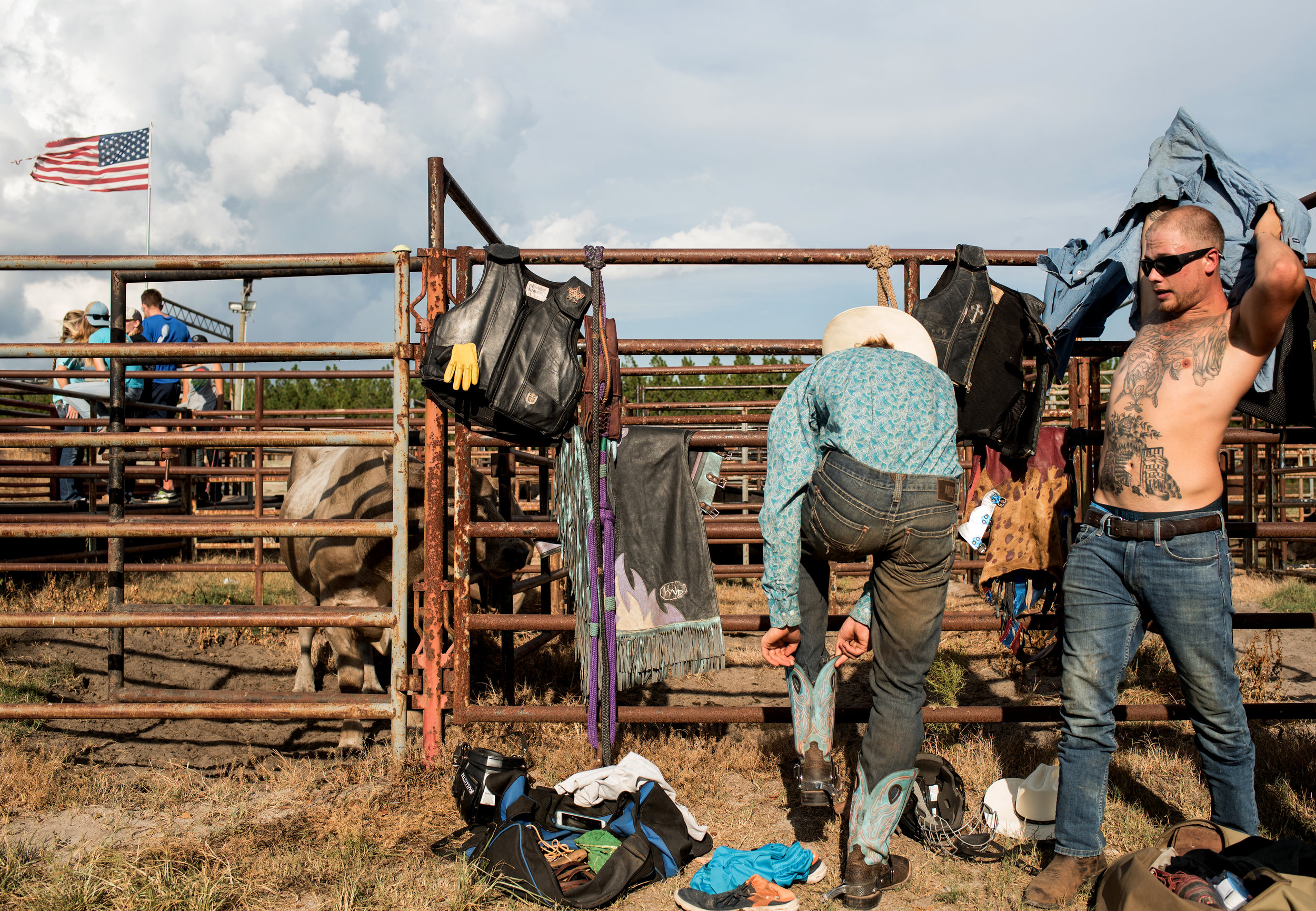 Amateur bull rider's gear up before they compete at Shady Acres Farm in Hope Mills, North Carolina.
Jose Chicas, 52, a pastor from Raleigh, is currently seeking asylum from ICE inside Durham's School for Conversion, a religious education center, located next to St. John's Missionary Baptist Church. Chicas has been at the center since June 2017. He fled El Salvador during the violent Civil War in 1985, where he then came to the United States. During his regular ICE check-in last spring, he quickly learned his deportation was no longer put on hold. If Chicas gets deported, he leaves behind his wife and four children, who still live in Raleigh.
Mother Charise Henderson, sits on the steps with her kids in Raleigh, North Carolina. Henderson has a son, Za'Mont, 5, who has Sickle Cell Disease and has had three liver transplants over the course of three years.
Two men talk at Maness Pottery and Music Barn as a performance is being held.
Mela, 11 months, sits in-between grandmother Helen McCullers, legs, as McCullers votes for the 2016 US presidential election at the Walnut Terrace office in Raleigh, North Carolina, USA, 08 November 2016. Americans vote on Election Day to choose the 45th President of the United States of America to serve from 2017 through 2020.
Jaki Shelton-Green was nominated North Carolina's first African-American Poet Laureate.
A woman yells at counter protestors during a protest held at the former Durham County Court House following rumors of a march planned by the KKK and other white supremacy groups, in Durham, North Carolina, USA, 18 August 2017.
Charlie Lowry, fronts the band Dark Water Rising. Lowry is in need of a second kidney transplant. A hemodialysis catheter is placed on her chest for dialysis treatment and a peritoneal dialysis catheter is placed on her abdomen for dialysis treatment. Lowry is having her peritoneal catheter removed on January 29, 2018.
Ellen Gladden, owner of Paye Funeral Home and Cremations, reacts to the flood damage caused by Hurricane Matthew, in Fayetteville, North Carolina, USA, 09 October 2016. Hurricane Matthew is blamed for at least seven deaths in the North Carolina and hundreds in Haiti, according to reports.
Autumn Spencer, left, stands with business partner Melissa Swingle. Both Spencer and Swingle are the new owners of The Cave in Chapel Hill.
Jason Edmonson, 39, hugs his daughter Shannon, 14, as they grieve over the loss of the wife and mother, Kelly Edmonson, 38, on Monday, March 6, 2017. Edmonson's house caught fire in the middle of the night, leaving him, and his two children alive without their wife and mother.
Michelle Gonzalez-Green has created the first African-Latina-run art site in Durham.
Janel Sheehan, 37, protested to support the students during the March For Our lives rally at Halifax Mall in Raleigh, NC, on March 24, 2018.